THE ULTIMATE SMOKY EYE PALETTE : URBAN DECAY NAKED SMOKY
Urban Decay sparked a mini eyeshadow revolution in 2010 with the launch of the first Naked palette, a collection of twelve wearable gold-hued shades with exceptional pigment, finish, and texture. Five years and seven bestselling palettes later and the brand have established themselves as leaders in the beauty world, pioneering a creative and experimental approach to makeup that revolutionised the neutral eye look.
The latest launch in the much coveted Naked line sees the usual collection of twelve neutrals given a smoky twist. The Naked Smoky Palette* presents the opportunity for a customisable approach to the smoky eye, via a dozen cool, sultry shades.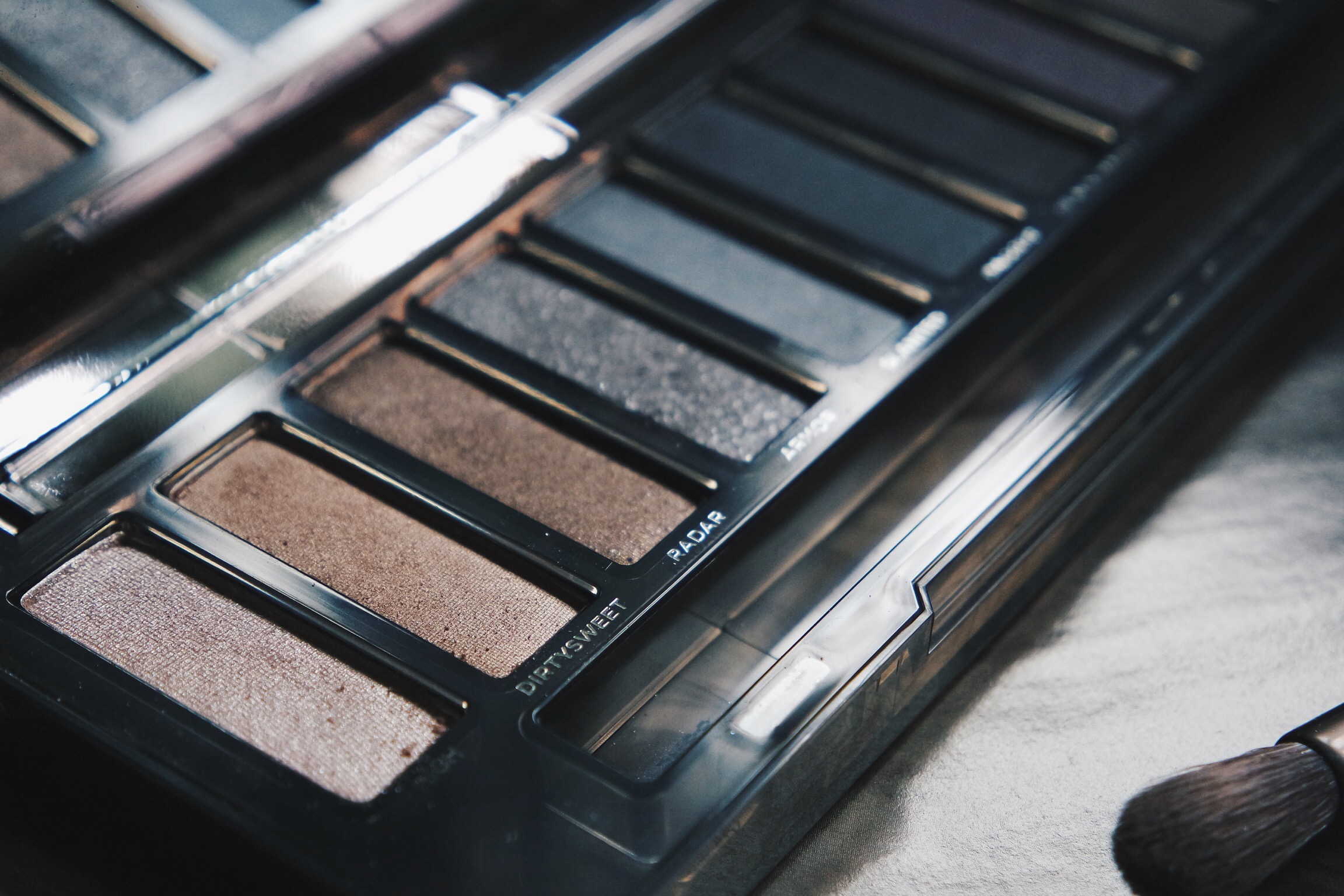 The smouldering smoky eye has long been a backstage favourite, and, alongside the red lip, is a benchmark of timeless glamour; yet here we have a palette which proves that a smoky eye doesn't have to adhere exclusively to shades of grey. Instead, expect shades that are infinitely approachable and wearable. From delicate neutrals through to cool blue-greys, rich browns, and warm purples [A/W'15 trend alert], Naked Smoky allows for a modern and multidimensional spin on the classic look. The muted approach to colour champions the anti-monochrome movement we've seen sported on the catwalk in recent seasons, presenting the perfect accompaniment to fashion's palatable closet of autumnal shades.
Naked Smoky contains nine brand new shades [details to the right], along with three favourites from previous palettes [four are matte, four satin, and four glitter], and is accompanied by a double-ended brush. It's a relief not to find the usual sponge applicators enclosed; unlike most palettes, this is a brush with worth - one end blends and the other smudges, both with success.
naked smoky : shade glossary
HIGH
Champagne shimmer with micro-glitter
DIRTYSWEET
Medium bronze
RADAR
Metallic taupe with iridescent micro-glitter
ARMOUR
Metallic silver-taupe with tonal sparkle
SLANTED
Light metallic grey
DAGGER
Medium charcoal with micro-shimmer
BLACK MARKET
Jet-black satin
SMOULDER
Deep plum-taupe
PASSWORD
Cool taupe matte
WHISKEY
Rich brown matte
COMBUST
Soft pink taupe
THIRTEEN
Light beige satin
Note that the packaging has taken a turn for the luxe and is a definite upgrade on the previous palettes' tin and faux velvet finish, [both of which lacked the finesse desired by those with an eye for aesthetically pleasing packaging]. Sleek and weighty, with a magnetic clasp, full-size mirror, and a glossy Perspex finish, this is not only less of an eyesore but infinitely easier to keep looking clean and smart [and less likely to result in spillages and mishaps].
Onto the contents; I do realise that I'm preaching to the converted here when I commend you to the deliciously soft and buttery texture of these shades [qualities which established Urban Decay's initial eyeshadow success]. Formulated with the brand's trademarked Pigment Infusion System, which gives the shadows serious staying power, the finely milled texture allows for optimal blending and makes application effortless [even for a beginner]. Expect the colours to blend together completely seamlessly, with a satin sheen finish and rich colour pigment that lasts [in the past few weeks I've worn all shades [in various combinations] for a minimum of eight hours, and I haven't noticed any fade or drop]. The textures maintain quality across the board, but I do find the matte ones to be a little drier in consistency - they require packing on, and work best when applied over a primer [but on a plus, do result in less fallout].
What I love most about this palette is the opportunity it presents for endlessly customisable looks - I've used many a palette where the shade range allows for just two or three combinations, but here almost every colour is complimentary to every other. There are so many options that there really is something for everyone - whether you prefer to blend 3+ shades, combine 1-2, or simply sport a single wash of pigment. Even if you're not a fan of the classic bold black smoky eye, you'll still find yourself spoilt for choice, and the palette is accompanied by a helpful list of tutorials and suggestions [I'm wearing the 'Everyday Smoky Eye' [Combust, Armour, and Password] to the left].
N.B. In advance of any calls for swatches, I haven't provided any purely because I don't find swatching to be an especially proficient way to demonstrate colours, nor do I find it does true justice to textures [or at least not with my camera!]. I would commend this Temptalia post to those who do want more detailed photography, the colours are all more or less true to reality.
What are your thoughts on the Naked Smoky palette?
g
Follow 'that-gracegirl' on Snapchat for IRL beauty, blog, and life updates.
*PR SAMPLE